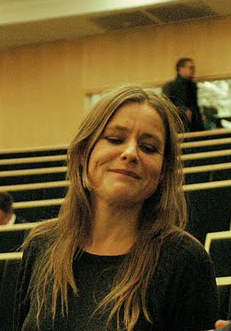 Ulrika Karlsson servo stockholm
Ulrika Karlsson is a partner and founding member of servo stockholm. Karlsson received her Architecture degree from Columbia University (MsAAD) and her Landscape Architecture degree from the Swedish University of Agricultural Sciences (MLA). Karlsson has lectured internationally and contributed to journals including Perspecta, Via, and AD. She currently teaches graduate design studios and is a visiting professor in architecture at the Royal Institute of Technology - KTH in Stockholm, where she also is the Head of Program / Director of the Architecture program. Together with Marcelyn Gow, Karlsson also pursues design research financed by the Swedish Research council. Karlsson has also taught at UCLA's Department of Architecture and Urban Design. Prior to establishing servo Karlsson worked in the office of Greg Lynn Form, Hoboken.

Veronica Skeppe servo stockholm
Veronica Skeppe is an architect and a partner of the research and design collaborative servo Stockholm. She is a lecturer in architecture at KTH School of Architecture and has worked as a guest teacher at the Interior Architecture and Furniture Design programme at Konstfack, University College of Arts, Crafts and Design. She received her Architecture degree from KTH School of Architecture (MArch 2013) and has also studied at the Staatliche Akademie der Bildenden Künste in Stuttgart.